Thursday, February 4, 2016
52@52 Week 27
I took the Intrepid in to work with me on Tuesday, and went out and shot a bit at lunch time. It really requires a tripod, and there isn't anything to hook a strap to, so it's a little unwieldy for that situation, but I managed.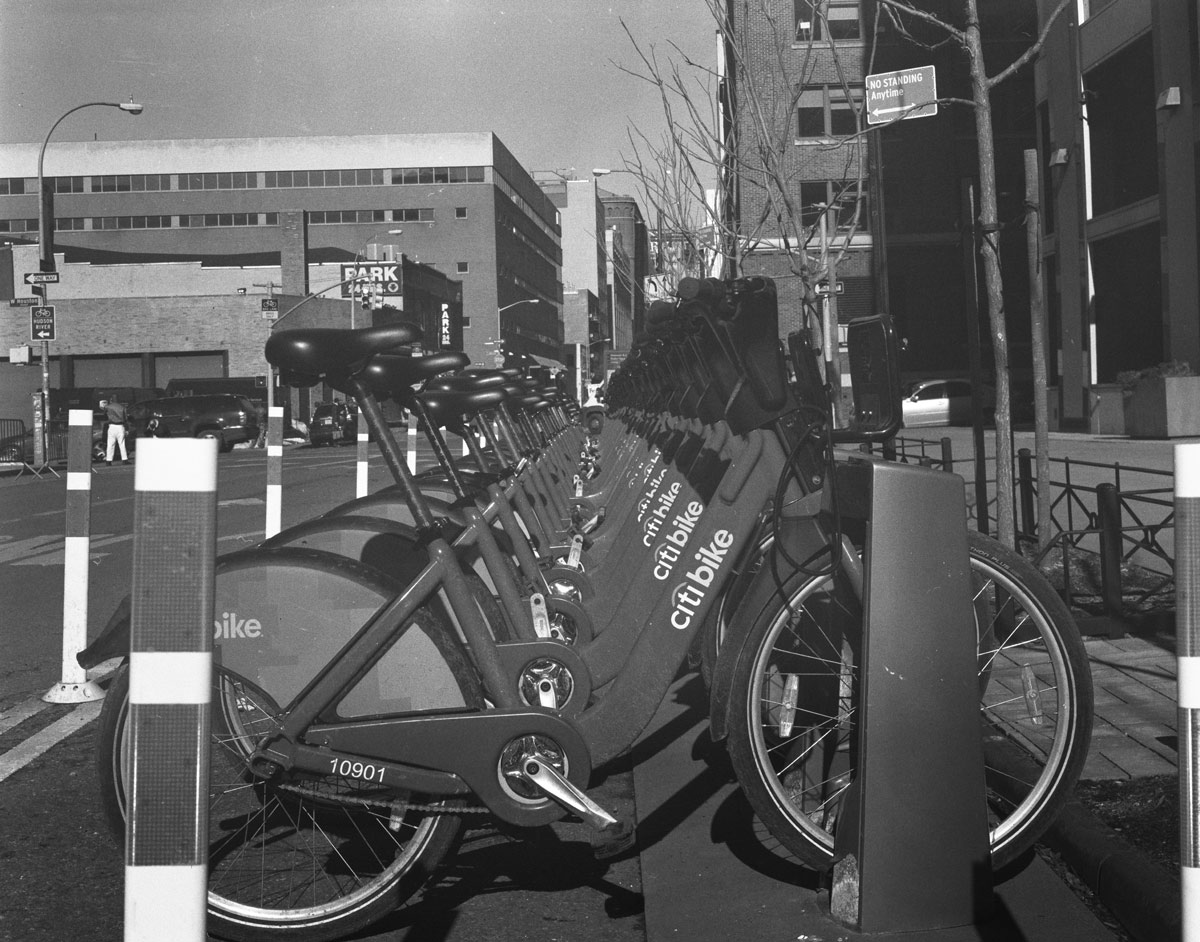 This is right behind my office, on Greenwich Street and Houston. These bikes are all over the city. I've never ridden one, though, because Laura thinks I'll get killed if I do. I'm still fascinated by them, though.
Shot this on Arista EDU Ultra 400 at f/32, 1/60 of a second. Developed in Rodinal 1:50 for 11 minutes.
My Wanderlust Travelwide finally showed up on Tuesday, after taking a tour of some other part of my town on Monday when the Post Office loaded the package on the wrong truck. The tracking site said they had tried to deliver but couldn't find a secure location to leave the package. For future reference, that's code for "we fucked up, but don't want it on our record, so we'll say it's your fault." That's paraphrasing what the guy at the P. O. told me when I called Tuesday morning to complain that they said they had left a notice, but there was no notice to be found. Anyway, the camera is here, and I've mounted an Angulon 90mm f/6.8 lens on it (a junker made in 1937 that I found in Columbus, Ohio, for $50, not the Linhof branded one I originally bought for the Travelwide, which I may keep in its lensboard and use with the Intrepid), but it requires calibration, and work is crazy busy this week, so I haven't had time to do that. Next week I hope to post something from that.
Posted at 6:27 AM
Note: I'm tired of clearing the spam from my comments, so comments are no longer accepted.
This site is copyright © 2002-2023, Ralph Brandi.