Sunday, May 7, 2006
More fun in the modern world
I took the Diana-F out for another spin two Fridays ago. I'm just starting to understand the camera, so what I get isn't always what I thought I was seeing. But it's interesting to play with. It would be fun at some point to have access to a darkroom and see what I could do. I don't think I'd ever be as good as this, but it could be fun trying.
I hit two locations. The first was Campbell's Junction, a small cluster of shops and businesses that served as a trolley station decades ago. The trolleys are long gone, but the function lives on as many buses stop there now.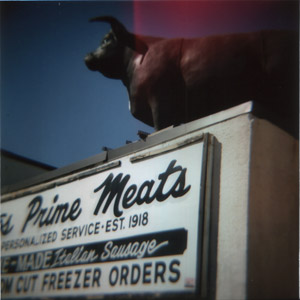 The butcher shop wants you to know what they sell, so they put it on the roof.
Getty stations are disappearing around here, mostly being rebadged after their new corporate parent, the Russian giant Lukoil. This Getty, on the other hand, just shut down, and only in the past couple of months. The light leak is well placed in this shot, doing something interesting to the trees.
More photos from Campbell's Junction on my photos page.
After visiting The Junction, I decided to see if I could find anything to shoot in nearby Leonardo. I was looking for things with bright, saturated colors to see what would happen if I shot them with my color-shifting camera and Kodak Ultra Color film. Leonardo Beach provided what I was looking for.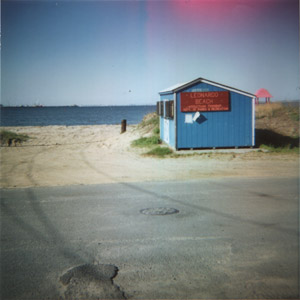 The beach isn't particularly prepossessing or anything.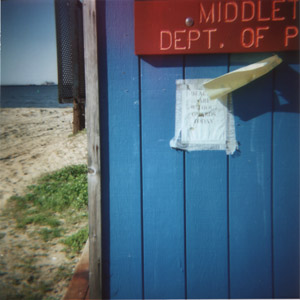 The sign says that there are no guards on the beach today, but it looks like that's the case pretty much every day.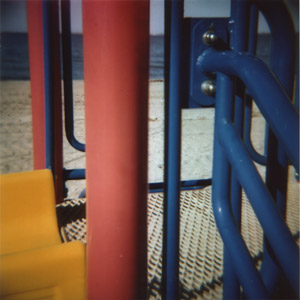 Lots of nice bright saturated colors.
More photos from Leonardo Beach on my photos page.
Tags: photography lomo holga diana toy camera campbells junction belford leonardo
Posted at 2:55 PM
Note: I'm tired of clearing the spam from my comments, so comments are no longer accepted.
This site is copyright © 2002-2023, Ralph Brandi.