Friday, May 13, 2022
Polaroid Week Spring 2022
For Polaroid Week last month, I did something different. My photos had a theme, and it was Ukraine. I wrote long captions tying the photos I posted to something about Ukraine and closed with a link, usually to a charity that helps Ukraine at this time.
In the spirit of owning your own content, I figured I should post it all here as well.
Flag
When I look at my ancestry, I'm a lot of things, but of the things I am, the thing I am the most is Ukrainian. My grandmother was born there. My grandfather's father was ethnically Ukrainian from an area that's now Poland. We were very close to that side of the family when I was growing up.
My photography has felt trivial lately. I have been obsessed with the war. So when it came time for Polaroid Week, I wanted to do something different. First I tried shooting things that were blue and yellow (the colors of Ukraine's flag). Some cookies I bought. The tryzub sticker on my car. Old boxes of Polaroid film (the Paul Giambarba boxes of 669 had a yellow-ish wrapper). Those photos didn't work.
Then I remembered that Polaroid had yellow film. And blue film.
If you go to the Polaroid site, they're out of the Yellow 600 film. But it was made recently enough that places like B&H still had some. So I got some. The integral Blue 600 film hasn't been made in a few years. But in my stash, I still had one pack of Polaroid 100 Blue pack film.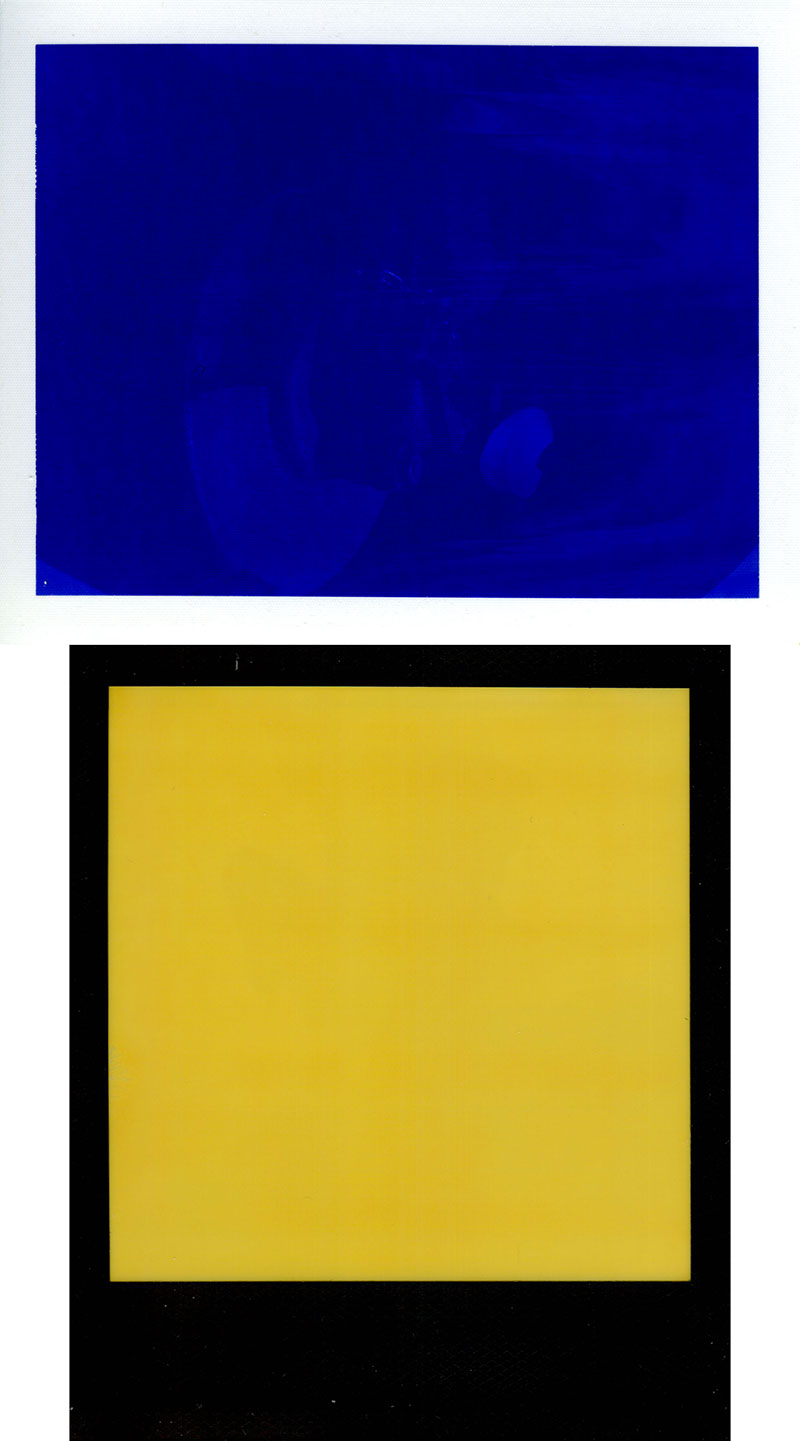 This is what I did with one underexposed shot from that pack of Blue that I shot with my Polaroid 195 Land Camera. I shot a pure white background with my SLR 680 and paired it with the nearly solid shot of Blue, and you get a Ukrainian flag from that.
Zbruch Idol
The Zbruch River formed the boundary between the Russian Empire and the Austro-Hungarian Empire up to the end of World War I. The river changed course slightly at one point, and in the place where the river had departed, in 1848 they found a statue that is now known as the Zbruch Idol. This happened just outside of Личківці (Lychkivtsi), a small village in Ternopil oblast that just happens to be where my grandmother was born. Last year, I bought this wooden carving that replicates the idol, the original of which is at a museum in Rzeszow, Poland.
The most commonly held theory is that the idol represents Sviatovid, a pre-Christian pagan Slavic god of abundance and war. Ukraine has an abundance of good land and wheat, and now they have war, so it seemed appropriate to show this picture of him.
I had run out of Polaroid Blue by the time I took this (actually, I had one shot left, but it came out waaaay underexposed), so the top here is shot with One Instant Color film, which has a blue cast.
Ukraine needs help. Razom for Ukraine is a reputable charity that started when Ukrainian-Americans wanted to help Ukraine during the 2014 Revolution of Dignity. They send humanitarian aid to Ukraine, including medicine, hospital supplies, and communications equipment. Support Razom for Ukraine.
Missile #1
Ukraine needs missiles.
Russia is using missiles on Ukrainian cities. Last weekend, Odesa was hit with a missile attack that killed a 3 month old baby. Russia is trying to erase Ukraine from the world, and it is using missiles to do it. Russian missiles being used last weekend, which was Orthodox Easter, had the words "Christ is Risen "written on them. Ukraine needs to fight back. They need missile defense systems. They also need missiles to attack the Orcs invading their country. It was a Ukrainian missile that took down the Moskva.
This is a Nike missile at Sandy Hook National Recreation Area. Sandy Hook and the surrounding area in Monmouth County, New Jersey, was home to many of these missiles. They are obsolete and have all been decommissioned.
With the shift from the north to the east, the geography of the battle has changed. The tactics that worked brilliantly in the Battle of Kyiv won't work in the Battle of Donbas. Ukraine needs heavy weaponry; tanks, armored personnel carriers, missile defense systems, and missiles. Ukraine is starting to get some of what they need, but they need more. You can contact your representatives and ask them to support increased military aid to Ukraine. Also, the National Bank of Ukraine has set up a special account that you can send money to to support the Ukrainian Armed Forces.
Missile #2
Russia has been at war with Ukraine for eight years. We just started paying attention two months ago.
Russia has been at war with the entire west for about that long as well. We still haven't noticed. Their weapons are non-conventional. They're bots on Twitter and hackers who phish political operatives. Дональд Трамп was a guided missile aimed directly at the fissures in US society. Brexit was a guided missile aimed directly at the fissures in UK society. Their purpose was to destroy NATO and the EU, and they've made big strides in that direction. It will take us decades to repair the damage caused by those missiles.
It's time to return the favor.
I am a pacifist by and large, and a small d democrat. I don't like weapons. But when a totalitarian fascist dictatorship attacks you, you have to fight back. When said dictatorship announces that its aim is to erase an entire nationality from the map, that's genocide. There is no pacifist solution to genocide, no compromise position. "Never again" we said after the Holocaust. And after Cambodia. And after Rwanda. And after Darfur, Sudan. And after the Rohingya in Myanmar. Right now, the battlefield is in Ukraine, but this is the World's war. Ukraine needs heavy weaponry; tanks, armored personnel carriers, missile defense systems, and missiles. Ukraine is starting to get some of what they need, but they need more. You can contact your representatives and ask them to support increased military aid to Ukraine. Also, the National Bank of Ukraine has set up a special account that you can send money to to support the Ukrainian Armed Forces.
Cannon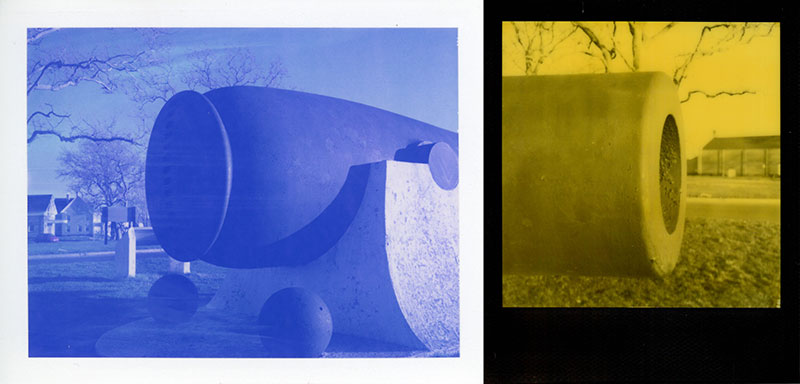 This cannon on Sandy Hook was once part of the defenses of Fort Hancock, the Coast Guard base at the northern tip of Sandy Hook. Fort Hancock was set up to defend New York Harbor. Like us, Ukraine has a coast to defend. Not with a weapon like this, though, the likes of which probably last saw Ukraine in the Crimean War.
Lighthouse
This is the lighthouse on Sandy Hook. Lighthouses are erected to protect sailors.
Similarly, Come Back Alive is a charity focused on protecting members of the Ukrainian Armed Forces. They provide defensive equipment and training to members of the Ukrainian Armed Forces to ensure that they can survive the assault by Russia. They also support medical assistance and rehabilitation for those soldiers wounded in war. You can support Come Back Alive.
Russian Warship Go Fuck Yourself
These are fishing boats, not warships. I couldn't get close enough to the warships docked at nearby Earle Naval Weapons Station. So these will have to stand in for the Missile Cruiser Moskva that attacked Zmiinyi (Snake) Island. The defenders of Snake Island responded appropriately when asked to surrender.
Ukraine famously followed up this suggestion with a cruise missile attack to ensure that the Russian Warship did indeed go fuck itself right to the bottom of the Black Sea.
You can buy a postage stamp commemorating the bravery of the guardians of Snake Island at the Ukrposhta philately site. Alternately, you can go to Volstamp's English language site and spend way more (like, waaaay more) but actually understand the purchasing process.
Waves of Grain
Ukraine is the breadbasket of the world. Their soil is rich and dark. They grow wheat and export it widely. I think I saw that they grow something like 20% of the wheat in the world. The country is filled with scenes not a million miles away from this. The war is making this difficult and may result in hunger and famine in countries very distant from Ukraine.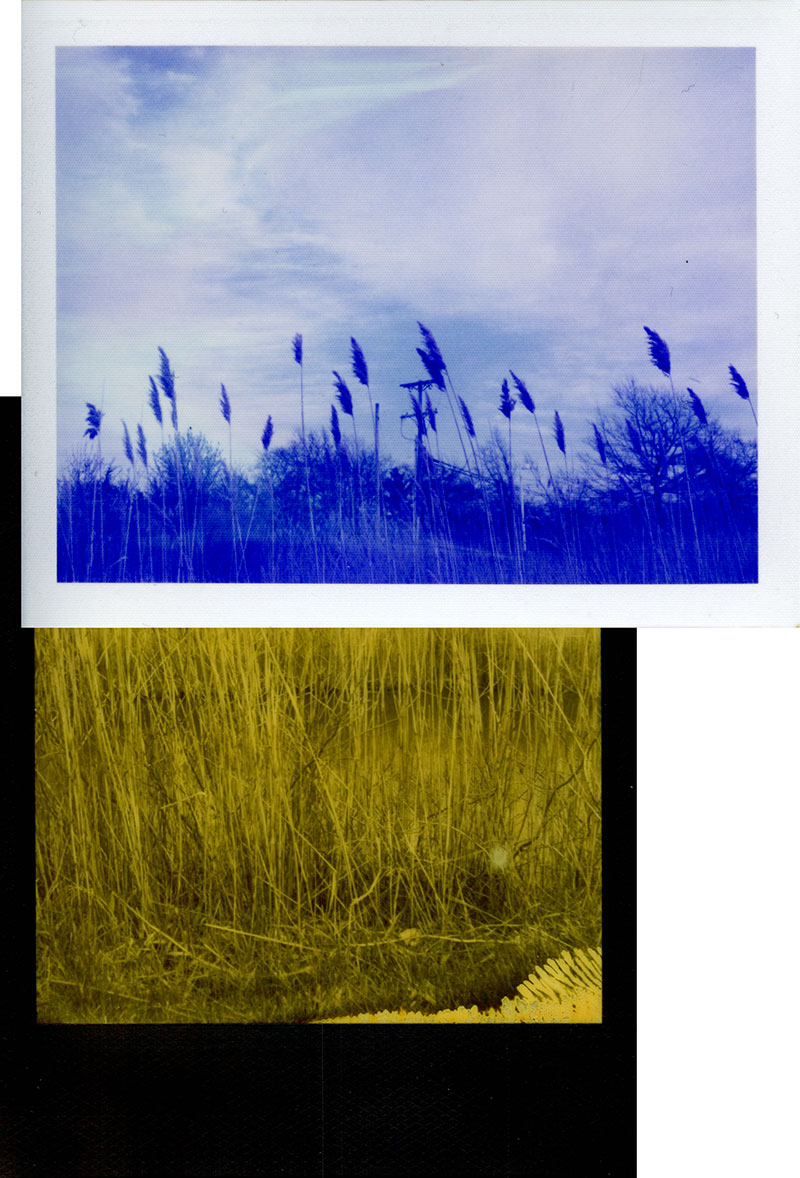 World Central Kitchen travels to crisis zones and feeds the hungry. Chef Jose Andres uses his fame to draw attention to the needs of the needy. You may have seen a recent video by WCK's CEO Nate Mook about their kitchen in Kharkiv getting hit by a Russian missile. That's how close to the front lines they get. You can support the work of World Central Kitchen.
On the Beach 1 and 2
A pack of Polaroid pack film contains 10 shots. I had one pack of Polaroid 100 Blue. Polaroid Week lasts six days, two shots a day, for a total of 12 shots per person. I had a hole of one day/two shots. But I found an unused box of New55 Color in my stash. New55 Color had this thing where it reproduces blues well, but there's a border around the edge of most shots that's yellow. Blue and yellow....
I shot these at Marineland in Florida with my Pacemaker Speed Graphic. Ukraine has a lengthy coastline on the Black Sea. Russia wants to control that coastline and make Ukraine a landlocked country, unable to export goods by sea without dealing with Russia. One of the ways they do that is with mines. There are mines floating freely in the Black Sea set loose by the Orcs. On land, retreating Orcs also set boobytraps on corpses of people they killed and on toys likely to be picked up by children. The Ukrainian Deminers Association cleans up these mines. You can support their efforts at that link.
Happy Warrior 1 and 2
Closing out Spring Polaroid week with a pair of matched M1900 6-inch guns from Battery Gunnison on Sandy Hook. Again, obsolete, but a reminder that Ukraine needs heavy weapons. They're starting to get them, finally. At some point, a victorious Ukraine will be able to place their guns in a park as a monument too.
Timothy Snyder is a professor of history at Yale. He writes popular history books about the history of Eastern Europe. I've read several. They're very good.
In 2017, he wrote a short book called On Tyranny: Twenty Lessons from the Twentieth Century. He describes it as a pamphlet, kind of a throwback to the days of Thomas Paine's Common Sense. In it he suggests ways for everyday people to fight back against tyranny, things like "Don't Obey in Advance". Last week, he released an updated version of the book with 20 new lessons specifically about Ukraine. It's only available in audiobook format. In it, he attempts to place the war in Ukraine into historical perspective. He makes the case that Putin's case is based on a baptism from a thousand years ago and that there was significant divergence in the futures of Rus (Ukraine) and Muscovy (Russia). He posits several types of politics: the politics of time (nostalgia), the politics of inevitability (this is bound to happen), the politics of eternity (this is how things always were and will always be), the politics of catastrophe, and the politics of possibility. Russia is at war with Ukraine, but really Russia is at war with democracy. This war will decide the outlines of the 21st century; will this century be dominated by autocrats or democrats? There's also a convincing case made that the war is the fallout of the failure of empires, the failure of the nation state, and that the EU represents a new alternative to empire that Russia finds threatening. It's no coincidence that the 2014 invasion started right after the Revolution of Dignity where Ukrainians rose up to insist on their right to join the EU.
The 20 lessons about Ukraine take about nine hours to listen to. I found it really worthwhile. All proceeds from the sales of the book go to humanitarian aid for Ukraine. You can find more information about the audiobook, including several places to buy it.
Also, if you have access to the New York Times, Snyder has an article about a new word that came out of the war, a portmanteau of "Russian" and "fascist" that he goes into a very in-depth explanation of how it came to be. The word is rendered as "рашизм" in Ukrainian. I've seen it used in English spelled "rashist", but Snyder makes the case that it should be transliterated "ruscist". It's a fascinating look at how a new word comes into being with interplay between three different languages. Worth reading if you can get past the firewall.
One other suggestion, if you're interested in the history of Ukraine, Serhii Plokhy's book The Gates of Europe is worth reading. It's half the length of the standard histories by Orest Subtelny and Paul Robert Magocsi (and less than a quarter the price) but covers the same material, and it's a good read. It will help you understand some of the things Snyder mentions, like the baptism a thousand years ago.
Thank you, everyone, for the kind comments on my series this week. If you liked what I did, after giving to whatever charities I linked to that you find appropriate, you might be interested in a zine I put out earlier this year. It's all Polaroid, and specifically all Polaroid 100 Chocolate, about life on the Jersey Shore when all the tourists have gone home. The zine grew out of my posts for the autumn Polaroid Week last year. You can find information about the zine in another post here.
Posted at 1:15 PM
Note: I'm tired of clearing the spam from my comments, so comments are no longer accepted.
This site is copyright © 2002-2023, Ralph Brandi.