Friday, April 6, 2007
A couple of recent shots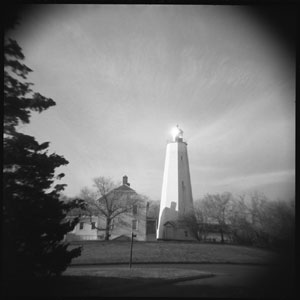 I think this may be my favorite shot of the lighthouse on Sandy Hook so far. As the fresnel lens was rotating, the sun would hit it just right when it hit a certain angle, so it looks like the light is radiating from the lighthouse here. The clouds conspired to kinda sorta look like they're all radiating from the lighthouse too. I shot this a couple of weeks ago with the Holga and developed it last night.
I'm glad I learned how to develop black and white film; I've been having a lot of fun with it lately. I brought the Holga and Diana with me when Laura and I went to see the elephants enter Manhattan last week. I got one shot where you can kinda sorta see one of the elephants as it turns the corner having just come out of the Queens-Midtown Tunnel at about 12:30 in the morning.
Tags: lighthouse elephant circus
Posted at 1:52 PM
Note: I'm tired of clearing the spam from my comments, so comments are no longer accepted.
This site is copyright © 2002-2023, Ralph Brandi.