Friday, February 23, 2007
The best part of waking up
Much excitement in the Brandi household this morning. Because of our somewhat secluded location with all the trees around, it's not unusual for people to leave us gifts on our lawn. Typically they're things like empty cases of beer and fast food wrappers. But when I woke up this morning, I found this offering to our greatness on the lawn: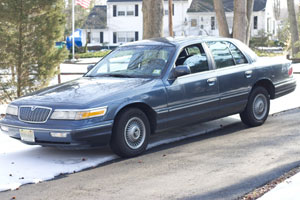 Needless to say, this wasn't something I could just cart off to the dump or place in the approved garbage receptacle. The door was unlocked and the window and glovebox were open. I poked my head in and found a registration card that didn't list one of our neighbors, so I immediately removed myself from the scene and called the police and gave them the license plate number. A couple minutes later, they called back and said that it appeared to be a car that a neighboring town was looking for.
Yup. Someone gave us a stolen car.
Ah, what a pleasant way to start the day. The car was just taken away a few minutes ago. I had a brief conversation with the officer to establish when the gift appeared, sometime between 8:30 last night when Laura got home from a dance class and 9:15 this morning when I went outside to take out the garbage. I wish I had looked outside when I was awake between midnight and 4 am so I could give them a better idea....
It was awfully considerate of them to refrain from parking us in.
Posted at 10:28 AM
Note: I'm tired of clearing the spam from my comments, so comments are no longer accepted.
This site is copyright © 2002-2023, Ralph Brandi.