Wednesday, February 21, 2007
A very hot show indeed
Laura and I went to see re-formed 1980s independent pop sensations The Bongos at Joe's Pub in Manhattan last weekend. They played their album Drums Along The Hudson in its entirety and in order, which is kind of strange, because it's a collection of singles, not a concept album or anything. Go figure. I brought my new Lomo LC-A camera to capture the action. I had no idea how hot the show would get. I certainly didn't expect spontaneous human combustion on stage.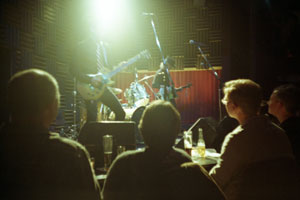 Tags: bongos joes pub spontaneous human combustion
Posted at 3:14 PM
Note: I'm tired of clearing the spam from my comments, so comments are no longer accepted.
This site is copyright © 2002-2023, Ralph Brandi.