Wednesday, March 8, 2006
Geek Glasses
I got my geek glasses last week and thought I should share.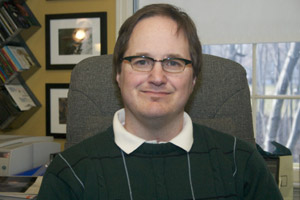 For the first few days, I did a double take every time I saw myself in the mirror (not surprising, given that I had my previous glasses for more than ten years), but now I think I'm used to seeing these on my face, and I like them. Not crazy about this particular photograph, but it's the best one of a bunch I took, so here you go.
Posted at 12:01 AM
Note: I'm tired of clearing the spam from my comments, so comments are no longer accepted.
This site is copyright © 2002-2023, Ralph Brandi.