Monday, February 14, 2005
A new member of the family
You don't just walk into a dealer and drive home a Mini, at least not here in New Jersey. We ordered the car in late October, knowing that it would be months before we got it. What the heck, we had the one car routine down pat, what difference was a few more months going to make? Since the car was built to order, we (meaning Laura) could decided exactly how we wanted the car to look and what to include. So there's a Union Jack on the roof, and a satellite radio inside, and heated seats and other decadent bourgeous touches. The result was custom made for a mid-life crisis. And this smile made the wait all worthwhile.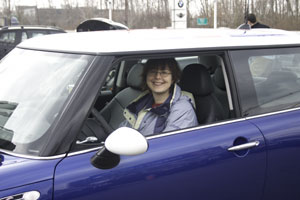 Posted at 5:21 PM
Note: I'm tired of clearing the spam from my comments, so comments are no longer accepted.
This site is copyright © 2002-2023, Ralph Brandi.