Tuesday, December 14, 2004
St. Augustine's Nights of Lights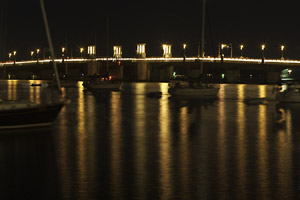 The first time my mom went down to St. Augustine to visit my dad, who was working on a contract assignment there, was at Christmas a few years ago. When she came back, she raved about how beautiful the city was, particularly at that time of year when the whole downtown area is festooned with Christmas lights. They really go all out. When Laura and I decided to visit them in their new home, one of the nice things about going at Thanksgiving was that the beginning of their "Nights of Lights" coincided with our visit.
Posted at 7:23 PM
Note: I'm tired of clearing the spam from my comments, so comments are no longer accepted.
This site is copyright © 2002-2023, Ralph Brandi.