Sunday, December 5, 2004
An (extended) soujourn to the beach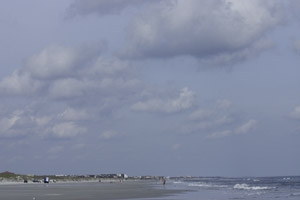 On Tuesday, my father decided to show Laura and me one of the neat treats about Florida by taking us for a drive on the beach. The only place I know of in New Jersey where you can drive on the beach is Island Beach State Park just south of Seaside Heights, and you have to get a extra-cost permit when you enter the park, plus you're supposed to partially deflate your tires before driving onto the beach. None of that applies in St. Johns County, Florida, where several streets open up onto the beach.
Driving along the beach was pretty cool. Unfortunately, Dad picked the wrong street to try to exit back onto the surface streets, and the car wound up with its front transaxle buried in the sand. No way were we getting this thing out short of a winch and a long steel cable. Whoops. Time to call Triple-A and wait for the tow truck.
Posted at 9:50 PM
Note: I'm tired of clearing the spam from my comments, so comments are no longer accepted.
This site is copyright © 2002-2023, Ralph Brandi.