Monday, November 24, 2003
Greetings from Asbury Park
Four more pictures for my entry in 26 Things, all from my day wandering down the shore yesterday. The four words added tonight are familiar, contemplation, close up, and famous.
Posted at 11:35 PM
Note: I'm tired of clearing the spam from my comments, so comments are no longer accepted.
This site is copyright © 2002-2023, Ralph Brandi.
What do you mean there is no cat?
"You see, wire telegraph is a kind of a very, very long cat. You pull his tail in New York and his head is meowing in Los Angeles. Do you understand this? And radio operates exactly the same way: you send signals here, they receive them there. The only difference is that there is no cat."
- Albert Einstein, explaining radio
---
There used to be a cat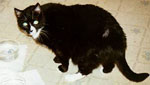 Mischief, 1988 - December 20, 2003

Sylvester (the Dorito Fiend), who died at Thanksgiving, 2000.
---
Stylesheets
---